All These Pretty Things  
An exhibition inspired by the music, album and book by Tracey Yarad  
Tracey Yarad is a Katoomba jazz pianist, singer and composer now living and performing in New York. All These Pretty Things, the music album and accompanying book of short stories written by Tracey, documents the traumatic yet ultimately empowering breakup of her marriage, her transformational journey to reclaim her dream of playing music in the Mecca of Jazz, and how a certain wedding dress came to be dyed black…  
The music and spoken word performance of All These Pretty Things premiered at the Soapbox Gallery in Manhattan in July 2020, during Covid lockdown in New York, and its success inspired Tracey to extend the fusion of the musical and the literary to embrace a collaboration with the visual. The exhibition All These Pretty Things is a series of works by visual artists, friends of Tracey's, who she commissioned to illustrate each of her songs and stories.  
The original image for the All These Pretty Things album and book cover was taken in winter in the middle of a snow-blown Manhattan street, with Tracey, arms akimbo, staring defiantly at the camera wearing a black wedding dress.  
Soul Love is the song and story of how the dress came to be black, and to illustrate it Tracey asked Chloe Cook-Williams, Katoomba circus performer, aerialist and visual artist. As a long-time friend and woman with Downs Syndrome, Chloe could identify with Tracey´s journey to autonomy. To create her artwork, Chloe began a collaboration with Deta C. Rayner, Berliner musician, visual artist and also friend to Tracey, to produce not one but many collages featuring the empowered heroines who had inspired Chloe's own journey, from Josephine Baker to Cate Blanchett. Her collage of Tracey on that Manhattan street in that dress became a centrepiece of All These Pretty Things.  
Tracey also commissioned Deta C. Rayner to illustrate the song/story You Never Bought Me Flowers. A native Berliner, Deta was in Australia in early 2020, on the road with Aussie husband Rob Rayner performing in their band The Beez. After Covid disrupted the tour in March, Tracey invited them to lock down in her Katoomba house as she was in New York. That generosity inspired another life-changing decision – for Deta and Rob to remain in Australia and make a new life in Katoomba. Tending to Tracey´s garden inspired Deta to create a beautiful series of works documenting the spring rebirth of the tulips she had planted in that uncertain autumn, which uncannily paralleled Tracey´s own musical renaissance in New York.  
One work each from Ingrid Haydon, Michelle Hungerford and Mathew Lynn will also be in the show.  
This exhibition celebrates not only Tracey's personal and professional transformation, but the power of art and friendship to heal, connect, inspire and sustain in good times and bad.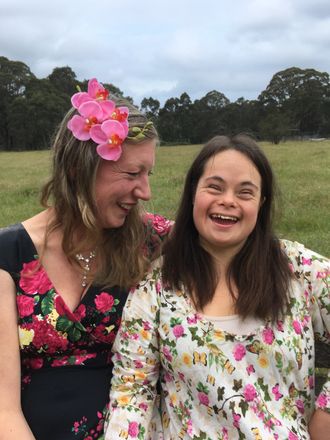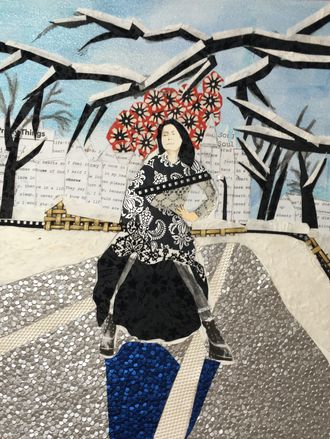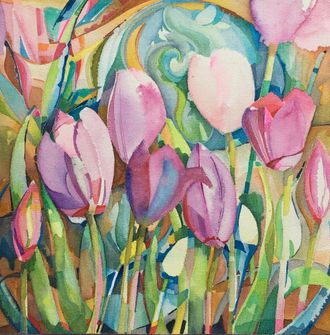 all our art will be shown here from the 20th of June 2022