News, CD, Mailing List & Facebook
News 19.05.2023
Liebe Freunde, Fans und Partykumpels! 
In knapp zwei Wochen ist es so weit, wir landen das erste Mal nach dreieinhalb Jahren wieder in Deutschland, juhu! 
Wir freuen uns riesig auf ein Wiedersehen mit Euch! 
Alle bisherigen Termine findet Ihr hier: 
https://thebeez.de/calendar 
Zu unserem einzigen Berlin-Konzert plus Jubiläumsparty (25 Jahre Beez) am Freitag, 30. Juni bei unseren Freunden von hertzer gibt´s hier noch eine extra Einladung. 
So, jetzt packen wir die Koffer und dann bis gleich…. 
herzliche Grüße (noch) aus AUS 
Beez 
Hausmusik bei hertzer mit 
The Beez (D / USA / AUS) 
"The Joint Is Jumpin' …" 
Eintrittsspende: ca. 15,-  € 

Liebe Leute, 
Am Freitag, den 30. Juni (ab 18.00 Uhr | Konzert 20.30 Uhr) laden wir unsere "Jubiläumsband" The Beez zu uns ein, ihr einziges Konzert in Berlin 2023 zu spielen; aber nicht einfach nur Konzert, nee, The Beez feiern dies Mal selber Jubiläum! Letztes Jahr sind sie ein viertel Jahrhundert geworden und das muss dringend nachgefeiert werden! 
2020 sind Deta und Rob aufgrund der Pandemie in Australien hängen geblieben, zerteilt, zwei hier, zwei da, aber immer noch ´ne Band, und nun dreieinhalb Jahre später: die große "Wiedervereinigung", Deutschlandtour und das Berlin- Konzert mit anschliessendem Tanz bei uns! (Bring your dancing shoes) 
Das ganze läuft unter der Rubrik Hauskonzert / Bottelparty (BYOB), eine beliebte und charmante Tradition, die Ihren Ursprung bereits in den 50er Jahren in den USA und auch in Australien fand: Alle Gäste zahlen eine Obulus, a "Quarter", heutzutage ungefähr 15,- €, der direkt an die Musiker geht. Getränke und wer will auch was zu essen können von den Gästen mitgebracht werden. Es werden aber auch Getränke und n paar Snacks für n schmalen Euro angeboten. 
Kommt alle! 
Platz ist genug, würden uns trotzdem über eine kurze Rückmeldung per mail freuen: 
deta@thebeez.de oder roderich.scheller@hertzer.eu 
Auf ein freudiges Wiedersehen und viele Grüße! 
hertzer GmbH 
Buchholzer Str. 63 D 
13156 Berlin-Pankow 
www.hertzer.eu || @Instagram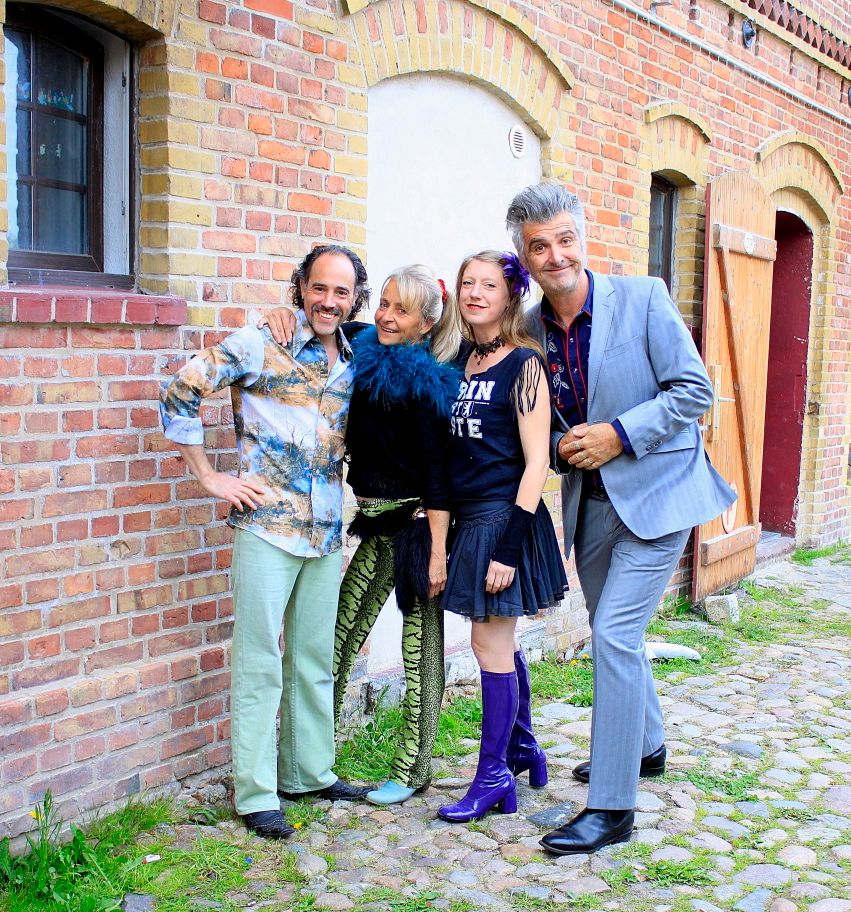 News 23.03.2023
Dear friends, fans and family, 
Do you know why some people call Rob "Shorty"? 
Well, it was our friend Chloe´s invention and she had no idea how right
she was….(or maybe she did??) 
….we only found out last August when we went up north to the beautiful
Black Mountain music festival near Cooktown where we met TIM WOODZ…… 
Now he´s coming from the Black Mountain via Melbourne to the Blue Mountains. 
He´s such a lovely "little" fella! … and because we´re not stingy at all,
we´d like to share him with you. 
… and because he´d like to share us with you but also loves MIC CONWAY,
it´ll be the best of all, a double concert with TIM WOODZ and MIC CONWAY
whose backing band just happen to be THE BEEZ. 
We are very much looking forward to seeing you at our house concert in
Wentworth Falls Sunday, 16th of April. 
Our friends Brom and Julien are kind enough to be hosting us in their
gorgeous home. 
Door´s open at 2pm for a 3pm start. 
Please let us know if you´d like to come - and how many you´ll be bringing (
the more the merrier) - and then we'll give you the adress. 
There is lots of room but not as much as on our paddock, so we´d like to get
an idea of how many to expect. 
Bring your own drinks, a plate to share and maybe even a chair or a
picknick blanket - if it´s dry and warm enough we'll be playing in the garden. 
Donations are $30 (cash only) and go directly to the musicians. 
House concerts are the BEST! 
(and who knows, maybe we are all in the mood for a little dance afterwards,
just in case I´ll be ready to be the DJ….) 
We hope to see you soon and send our love, 
cheers, Deta and Rob
Before we go to Germany THE BEEZ have a few more shows: 
24.-26.03.2023 
Yackandandah VIC / Yackandandah Folk Festival 
01.04.2023 
Sydney / German cultural day / Goethe Institut 
02.04.2023 
Murrah Hall 
22.04.2023 
Uralla Arts 
for more information go to:
/calendar
TIM WOODZ is a natural performer who brings laughter, love and insight along with well crafted sing-along songs
MIC CONWAY und THE BEEZ 
"The quintessential 1920's vaudeville and cabaret act… " But we all know that!